Please leave plant design and piping 3DCAD design to us
"TSUBASA ENGINEERING SERVICE Co.,Ltd." is a plant engineering professional manufacturer located in Kitakyushu, Fukuoka Prefecture. Our service is a comprehensive engineering from various plant design and piping design to construction planning and management, about petroleum, chemical, steel, electricity, environment, air conditioning, water supply, drainage, recycling, marine resources, etc.
On this page, we introduce our main design results.
3DCAD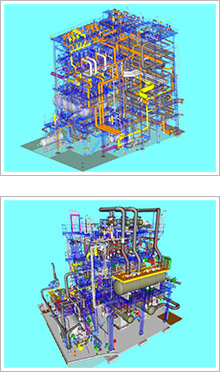 On conventional design sites, drawing by handwriting or 2DCAD was common.
However, designing a three-dimensional structure based on a plan view tends to cause errors at the stage of combination, and there are various disadvantages such as difficulty in imagining a completed figure from the drawings.
In order to solve this problem, we introduce 3D design by 3DCAD at our design site.
Expressing stereoscopically by adding detail data such as depth and height, as well as thickness, we achieve high accuracy and high quality drawing design with no error.
In addition, it is also a big merit of 3D design by 3DCAD that it is easy to share the finished image with customers by visually representing the completed model.
Technical analysis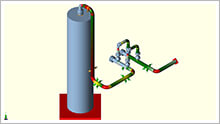 In the current technical analysis, if we do not even mistake the numerical input, the software automatically calculates, and an accurate conclusion can be obtained.
However, if the person in charge complete calculating without noticing input mistake, there is a risk of designing plant and piping based on conclusions different from actual condition.
With a thorough system to be evaluated by experienced engineers and utilizing the latest software, we provide high safety and reliability technical analysis.
Our engineers in charge of analysis are specialists in technical analysis who are familiar with not only basic and applied engineering but also thermodynamics, material mechanics and fluid dynamics.
It is applicable to technical analysis in all fields including application analysis, fluid analysis, structural analysis, heat transfer analysis, earthquake resistance analysis and so on.
Our Flowchart
Basic Design (Planning Design)
Based on the plan customers sumitted to us, we take consistency in the whole plan so that it meets the requested specifications.
We determine the terms of the basic design, analyze and examine and design process functions.
By doing basic design of piping and various equipment, we decide necessary matters for detailed design.
Detail Design
Based on the basic design, detailed desgin leading to procurement, construction and operation is carried out.
Also, 3 dimentional design by 3DCAD is carried out in this step.
In addition, by utilizing the latest analytical tools and simulation tools to perform structure and strength calculations and analysis work, professionals in each field demonstrate their expertise to add concrete and precise details to the plant only on data.
Procurement (Material purchasing assistance)
Based on detailed design, We purchase equipments and materials necessary for construction of the plant, and conduct inspection and transportation, etc., respectively.
We support all kinds of work related to material selection and procurement including preparation of purchase specifications, quotation inquiries etc.
Construction (Construction management)
Construction is carried out based on specifications determined so far.
We also accept temporary dispatch of managers who manage the entire construction such as construction period, cost, quality and safety, etc.
From construction planning and construction management to construction and trial operation, we dispatch experienced personnel to provide safe and secure service.
Business list
Design

Planning / Drafting
Research / Design
Basic design and planning design
Providing design information and support for related divisions
Measurement of existing factory by 3D scan
Detailed design
Design strength examination
Technical analysis
Material procurement assistance

Drawing

Drawing by 2D and 3DCAD
Drawings of plant piping design
Drawings of various related equipment such as machinery, construction and chemical processing equipment
Construction complete set

Software

3DCAD
Auto CAD (2D CAD)
Auto PIPE (piping thermal stress analysis · earthquake resistance analysis)
CAESAR-II  (piping thermal stress analysis · earthquake resistance analysis)
NAVIS WORKS (3D viewer software)
Piping materials tallying software
STAN 3D(Structural strength calculation software)
High pressure gas anti-earthquake design

Dispatch

(Worker Dispatch Project)

Design engineer
Design manager
Construction manager

Others
Material procurement assistance