TOP PAGE >
Business of hydrogen production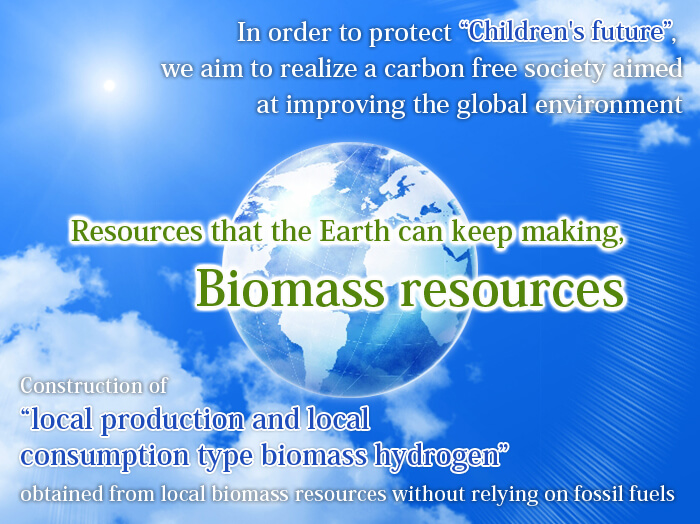 Business alliance / Joint development
Japan Blue Energy Co., Ltd., since its establishment in 1975, have repeatedly done various consulting business ranging from activation of rural village region to introduction of new energy. Under the corporate philosophy of "Creation new value with advanced and unique technology and Contribution to the realization of a rich and comfortable society and environment", with "Create for the Next Generation" as the word, taking into consideration company in the future of 50 years and 100 years later, Japan Blue Energy Co., Ltd. has been engaged in corporate activities.
Basic concept - the establishment of local production and local consumption type energy infrastructure –
By creating three circulations of "resource", "water" and "wealth" within the region,
we aim for region creation.
We collect biomass resources discharged locally and convert them to energy by BLUE-Tower.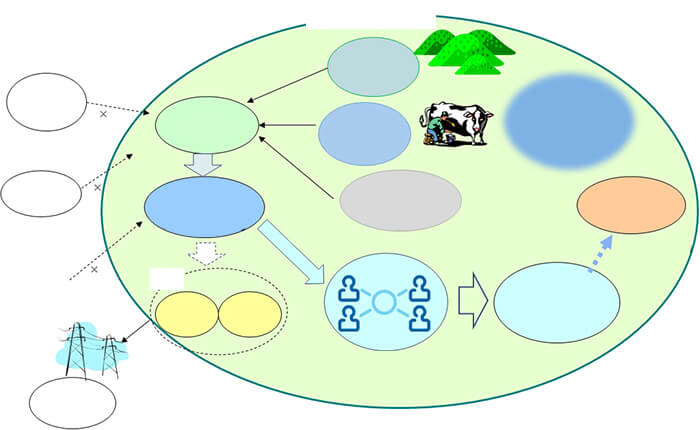 Surrounding
area
Biomass
Metropolis
Biomass
Biomass
Raw material
collection
Conversion
to energy by
BLUE-Tower
Electricity
sales
Hydrogen
production
FIT
Power
company
PPS
Metropolis
In the region
Woody
biomass
Animal
husbandary
biomass
Others food
biomass
Biomass
resources
produced
locally
Also used as
disaster prevention
infrastructure
Utilization of
FCV/business
FC
Creation/Evocation
of regional biomass
hydrogen market
Construction of regional
hydrogen distribution network
Biomass
IN
Blue-IGP
OUT
Where to use energy

Woody

Thinned wood, Forest land reminder, End material of lumber, Construction waste material, Pruning branch etc.

Animal husbandary

Livestock waste

Food

Food residue

Sludge

Sewege sludge

Hydrogen purification
and supply

Hydrogen

Existing market (Industrial hydrogen)
New market (Fuel cell hydrogen station etc.)

Power generation

Electiricity

Electric power business
(power generation)

Heat supply

Electricity Heat CO2

Agriculture
(Facility gardening etc.)
BLUE-project that produce energy from biomass varies depending on the type of biomass as a raw material and the type of energy to be produced.
The flow of hydrigen generation
①Biomass+②Heat+③Water = Hydrogen gas
BLUE-Tower Ⅲ New-type process
Heat Carrier
Heat Carrier
Small ceramic balls
are recycled as heat
source for gasification
Heat carrier is
heated with
hot gas
CO2
Exhaust gas
Preheater
High
temperature hot air
①
Biomass
(Raw material)
By using stream,
gas component are
improved (Reforming)
Reformed gas
Pyrolys's
zone
Reforming zone
③stream
Biomass is
gasified
with heat
Heat carrier and
by-product are
separated
The use of
by-product
creates heat
for gasification
Heat carrier and by-product
Separator
Hot gas generator
Char
(By-product)
②
By-product gas
or
auriliary fued
Hydrogen purification facility
Hydrogen gas is separated and
recovered from the reformed gas
Gas
transformer
Gas separation
devicde
High purity
hydrogen
gas
Trademark: ブルー水素
CO2
By-product
gas
(Reoyding)
↓
Hot gas generator
Biomass gasification facility (basic process)
①Overall design
②Procurement
③Construction
④Actual operation education
Purified
hydrogen gas
JBEC & TES consistently undertake the 「BLUE-Tower Ⅲ New-type process」 is overall design,
procurement, construction and actual operation education